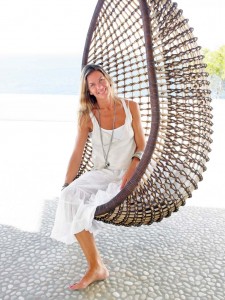 Laura Cavalca graduated with a degree in Architecture at the IUAV in Venice and specialized at the Accademia Arti Applicate" in Milan.
She lives and works between Brescia (Italy) and the Balearic Islands, especially Ibiza and Formentera.
In Italy she dealt with many interior renovations in Milan, Brescia, Cesena, Milano Marittima and Porto Cervo.
Laura Cavalca's style includes neat and essential lines, not forgetting that "the house has to be a holder of personality": her target is to catch the character of her clients and to make it readable in every single detail.
Thanks to her experience in the Balearic islands, she learnt to mix different styles of different cultures and traditions, in order to enrich the everyday living. Here is where her passion for Mediterranean ornaments is born.
Laura Cavalca has also a great love for architectural and travel photography and she has taken part at numerous exhibition among the years.